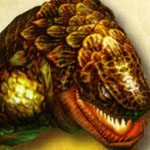 Just like their parents, these Battochykas larvae are capable of adapting to their surroundings, and attack small animals and humans in groups. Despite the fact that these are only larvae, their ferocity matches that of their full-grown form.
Ad blocker interference detected!
Wikia is a free-to-use site that makes money from advertising. We have a modified experience for viewers using ad blockers

Wikia is not accessible if you've made further modifications. Remove the custom ad blocker rule(s) and the page will load as expected.