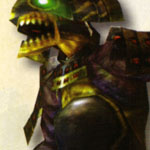 Having learned how to manipulate DNA, Guildenstern experimented with taking the DNA of the Three Eyes created in the past and combining it with the Zolm, which gave way to the Gilzorm. With vision as advanced as the Three Eyes, the Gilzolm can pick up on even the slightest amount of light to move about freely in the darkness, and has immensely improved reflexes and attack abilities.
Ad blocker interference detected!
Wikia is a free-to-use site that makes money from advertising. We have a modified experience for viewers using ad blockers

Wikia is not accessible if you've made further modifications. Remove the custom ad blocker rule(s) and the page will load as expected.