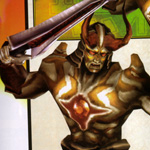 Marcellus S is modified by Guildenstern to include both speed and power. Instead of the bulky sword he carried in previous battles, he now has two very sharp and thin swords attached to both his arms, and fights amazingly fast.
Ad blocker interference detected!
Wikia is a free-to-use site that makes money from advertising. We have a modified experience for viewers using ad blockers

Wikia is not accessible if you've made further modifications. Remove the custom ad blocker rule(s) and the page will load as expected.