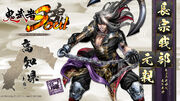 Motochika Chōsokabe(長宗我部 元親, Chōsokabe Motochika) was the 20th chief of the Chōsokabe clan of Tosa Province. He fights for the Genma and wields a giant anchor as his weapon of choice. He is the eldest son of Kunichika Chōsokabe, the previous head of the Chōsokabe clan. Nobuchika Chōsokabe is his eldest son and original heir.
His appearance and choice of weapon are reminiscent of his incarnation from Capcom's "Sengoku BASARA" series.
Ad blocker interference detected!
Wikia is a free-to-use site that makes money from advertising. We have a modified experience for viewers using ad blockers

Wikia is not accessible if you've made further modifications. Remove the custom ad blocker rule(s) and the page will load as expected.