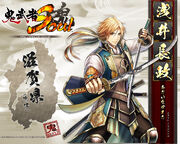 Nagamasa Azai is the Daimyo of Ōmi Province, husband to Oyu, father of Ohatsu and Yodo and the brother-in-law to Nobunaga Oda.
Nagamasa is the head of the Azai clan and lord of Odani Castle. He is mentioned a number of times by both Oyu and Jubei in Onimusha 2. He makes his physical and playable debut appearance in Onimusha: Soul, and is a wielder of an Oni gauntlet. His weapons of choice are dual katanas.
It is interesting to note that Nagamasa isn't the only in his family to assist the Oni clan, as his wife and daughter have also helped at some point in their lives, respectively. Chronoligicaly, Oyu helped Jubei on his quest to stop her evil brother's ambitions and when Jubei's mother, Takajo, called on her to find the Sacred Flute for Jubei. Years later, his daughter Ohatsu would lend her marksman skills to Soki, during his fight against Hideyoshi's Genma forces.
Nagamasa can be called Onimusha, as he wields an Oni gauntlet, and thus has been chosen to fight for the Oni clan.
Ad blocker interference detected!
Wikia is a free-to-use site that makes money from advertising. We have a modified experience for viewers using ad blockers

Wikia is not accessible if you've made further modifications. Remove the custom ad blocker rule(s) and the page will load as expected.